Richard Strauss in Berlin
The series about historical places of opera art & culture. Get to know exciting excursion and travel ideas for opera lovers. This time: Richard Strauss in Berlin .
All Destinations on google maps with links to detailed Blogposts:
Richard Strauss in Berlin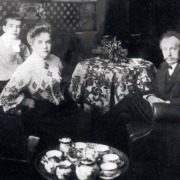 Richard Strauss lived in Berlin for twenty years from 1898. He started as Kapellmeister and became General Music Director in 1908 (together with Karl Muck). However, he reduced his workload in Berlin to 50% and from then on the Strausses spent a lot of time in their newly built villa in Garmisch, plus several trips abroad.
Strauss was hired as Kapellmeister at the Opera "unter den Linden" and wanted to stage his "Guntram" and the "Feuersnot" there, which was not approved. Strauss then decided not to have his future operas performed in Berlin. In fact, Dresden and Vienna became the Strauss cities for his future operas. Even at the only premiere in Berlin, his Alpine Symphony, the Dresdeners sat in the orchestra.
Destination State Opera House Unter den Linden (formerly Royal Court Opera House).
The State Opera is a magnificent opera house and an outstanding history. The gallery of directors includes names such as Giacomo Meyerbeer, Otto Nicolai, Erich Kleiber, Wilhelm Furtwängler and Joseph Keilberth. Daniel Barenboim has been the director of this Berlin institution since 1992.
The building was rebuilt in 1843 after a fire as a magnificent imperial structure and served as a court opera. After the fall of the empire, it changed its name to the Staatsoper.
View of the State Opera House:
It was badly damaged in 1941, but was immediately rebuilt in 1942 to raise the morale of the people.
After the air raid:
---
Destination Strauss apartment Heerstrasse
Although he wrote positively about his time in Berlin in his memoirs, he did not really warm to the imperial city; despite living here for 20 years, he was only a tenant.
During the three years he lived in three upper-class apartments, all in upscale Charlottenburg. The first apartment on Knesebeckstrasse no longer stands, but the corner house at Heerstrasse 2 (then Kaiserdamm 39) still does. A plaque commemorates the famous resident who occupied the fourth floor.
Richard Strauss apartment at Heerstrasse 2:
---
https://opera-inside.com/wp-content/uploads/2021/04/Berlin-Richard-Strauss-Biografie-Biography-Life-Leben-Places-Orte-Music-Musik-Travel-Guide-Reisen-Reisefuhrer-e.jpg
577
1423
Operadmin
https://opera-inside.com/wp-content/uploads/2021/08/opera-inside-wp.png
Operadmin
2021-04-25 09:31:50
2021-04-26 17:47:07
Travel tips for opera lovers - Berlin and Richard Strauss