The series about historical places of opera art. Get to know exciting excursion and travel ideas for opera lovers. This time: Leipzig and Schumann
All Destinations on google maps with links to detailed Blogposts:
Robert Schumann in Leipzig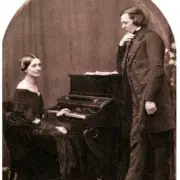 Schumann, who grew up in nearby Zwickau, moved to Leipzig at the age of 18 to take up the unloved study of law. His mother wanted him to take up his studies, but Robert was mainly concerned with literature and music during this time. He stayed at the university for only one semester and then transferred to Heidelberg University for three semesters.
In 1831, the twenty-year-old returned to Leipzig to begin training as a piano virtuoso with Friedrich Wieck. Wieck had assured his mother that Robert had the talent if he would only practice diligently. However, the dexterity was not enough and Robert overused first his middle finger, then his whole right hand (possibly with a mechanical exercise device), so that he had to bury the dream of a piano virtuoso career.
In 1834, with Wieck, he founded an influential journal for music, which he directed for 10 years and for which he wrote numerous articles. Schumann had an extraordinary gift for language. He published many essays under pseudonyms, including Eusebius (the introverted Schumann) and Florestan (the passionate Schumann).
In 1833 he experienced his first psychoses. A doctor advised him to marry in order to overcome the crisis with a regulated life. Schumann became engaged to Ernestine von Fricken and set a monument to her in his piano work Carneval (Estrella). However, the engagement was broken off again.
This mental illness probably stemmed from a bipolar disorder; occasionally a syphilis disease is mentioned as the cause. This is contradicted by the fact that Schumann's father, one of his siblings, and two of his children also had mental problems, which would argue for a genetic cause.
Schumann had lived in Wieck's house during his student years and had met 9-year-old Clara. They became friends and the friendship turned to love when Clara was 15. At 18, the two became secretly engaged. Since their father was against the marriage, the two fought in court to get permission to marry and the wedding took place in 1840 at the Schönefelder Memorial Church. That year, the two moved into the apartment on Leipzig's Inselstrasse, where they had an artist's marriage and received artists such as Liszt and Mendelssohn. While Schumann wanted Clara to focus on her marriage and end her career as a pianist, he supported her in her work as a composer. This year became one of Schumann's most productive years, called his Liederjahr because of the abundance of Lieder.
In 1841 Schumann composed his first symphony, the Spring Symphony, which Felix Mendelssohn premiered at the old Gewandhaus. It was a great success and Wieck recognized the genius of his son-in-law and sent out conciliatory gestures. Robert, however, remained reserved toward his father-in-law.
In 1844 Schumann hoped to become Mendelssohn's successor at the Gewandhaus. But their hopes were dashed and the Schumanns moved to Düsseldorf, where Robert had received an offer as municipal music director.
Destination Schumann Haus Inselstrasse
In this historic house Clara and Robert Schuman lived from _. In 2019, the museum was redesigned and became an interactive museum where children can also enjoy. With sound experiences, permanent exhibitions and concert experiences in the historic hall, the museum covers a wide spectrum. Space is given to both artists and the visitor can trace their life and work together.
https://www.schumannhaus.de/museum/
---
Schönefelder Gedächtniskirche (Memorial Church)
Robert and Clara were married here in 1840, and a relief in the church commemorates the event.
---
https://opera-inside.com/wp-content/uploads/2021/06/Robert-Leipzig-Travel-Reisen-Culture-Tourism-Reisefuhrer-Travel-guide-Classic-Opera-e.jpg
573
1425
Operadmin
https://opera-inside.com/wp-content/uploads/2021/08/opera-inside-wp.png
Operadmin
2021-06-08 10:50:52
2021-06-08 10:52:03
Travel tips for opera lovers - Leipzig and Robert Schumann