Puccini in Turin
The series about historical places of opera art. Get to know exciting excursion and travel ideas for opera lovers. This time: Puccini in Turin
All Destinations on google maps with links to detailed Blogposts:
Puccini in Turin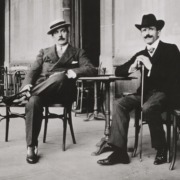 Turin played an important role in the first half of his career. It began with the performance of his cappriccio , at the age of 25, his final work of the Conservatory, which was applauded by the public, there he took a room at Via Sant'Agostino 15, where today hangs a commemorative plaque. Later, two important premieres took place at the Teatro Regio ("La bohème" and "Manon Lescaut"), more about them below.
In Turin Puccini also had the encounter with a mysterious Corinna.The composer, who was never averse to an extramarital affair, began an affair with the 17-year-old young woman from Turin. However, his family convinced Puccini to abandon the affair. She soon became the inspiration for Butterfly. The 15-year-old Cio-Cio-San in the literary original became a seventeen-year-old in Puccini's opera; we now know why.
Destination Teatro Regio Torino
Two of Puccini's outstanding operas had their premiere at the Teatro Region. "Manon Lescaut" became a great success (conducted by Toscanini) and "La Bohème" became a bone of contention, fiercely applauded by the public but hostile rejected by the Wagnerian press. Turin's Teatro Regio is an opera house that dates back to the Baroque period, but in 1936 it burned down, short circuits igniting the cables that quickly set the wooden beams ablaze. However, it was built in 1973 until a modern, beautiful theater.
Teatro regio:
---
Destination Caffè al Bicerin Torino
Puccini mentioned in his memoirs that he visited the Caffè al Bicerin from time to time. The Bicerin is a Turin institution and has existed since 1763. Its specialty is a traditional coffee drink made from espresso, cocoa and whole milk. It was invented in the Caffè founded in 1763. The word Bicerin is Piedmontese and means little glass.
Caffè al Bicerin:
---
https://opera-inside.com/wp-content/uploads/2021/03/Turin-Torino-Giacomo-Puccini-Biografie-Biography-Life-Leben-Places-Orte-Music-Musik-Travel-Guide-Reisen-Reisefuhrer-e.jpg
633
1448
Operadmin
https://opera-inside.com/wp-content/uploads/2021/08/opera-inside-wp.png
Operadmin
2021-03-06 18:26:55
2021-05-02 14:46:12
Travel tips for opera lovers - Turin and Giacomo Puccini