Franz Liszt in Bellagio
The series about historical places of opera art classical music & culture. Get to know exciting excursion and travel ideas for opera lovers. This time: Franz Liszt in Bellagio.
All Destinations on google maps with links to detailed Blogposts:
Franz Liszt in Bellagio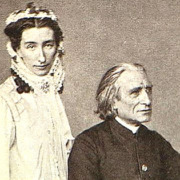 When Liszt arrived in Bellagio, he wrote in a letter, "When you write the story of two happy lovers, set it on the shores of Lake Como. I know of no place more demonstrably blessed by heaven; I have seen no other where the charms of a love life can appear more natural."
The 25-year-old Liszt had fled to Geneva in early 1835 with the married Marie d'Agoult and her daughter to escape the hostility of better society, which disapproved of this alliance. In addition, Marie was pregnant and they did not want to experience the scandal of giving birth to a child together in Paris. After the months in Geneva, they chose the Villa Bellagio as their destination and spent three months there. There their daughter Cosima was born, who 35 years later would marry Richard Wagner.
Reiseziel Villa Melzi
The villa that so enchanted Liszt is a bourgeois multi-storey palace built directly on the lake in an austere neoclassical style with a large English garden. The garden was raised with hills and exquisitely planted with trees and complemented with sculptures. The beautiful statues of Béatrice and Dante are said to have inspired Liszt to write a piece which he later expanded into the Dante Sonata.
Today you can stroll through the beautiful English garden and visit the orangery, guided tours are available.
Villa Melzi:
Villa Melzi Garten:
https://giardinidivillamelzi.it/en/home-eng/museum-eng/
Bellagio appears most beautiful when approached from the water.
---
Musical Background: Franz Liszt's Dante Sonata
Après une lecture du Dante: Fantasia quasi Sonata – Arcadi Volodos
---
https://opera-inside.com/wp-content/uploads/2021/04/Bellagio-Franz-Liszt-Travel-Reisen-Culture-Tourism-Reisefuhrer-Travel-guide-Classic-Opera-e.jpg
624
1448
Operadmin
https://opera-inside.com/wp-content/uploads/2021/08/opera-inside-wp.png
Operadmin
2021-04-01 07:54:36
2021-04-08 16:17:05
Travel tips for classic lovers - Bellagio and Franz Liszt