Johann Sebastian Bach in Köthen
The series about historical places of opera art & culture. Get to know exciting excursion and travel ideas for opera lovers. This time: Johann Sebastian Bach in Köthen.
All Destinations on google maps with links to detailed Blogposts:
Johann Sebastian Bach in Köthen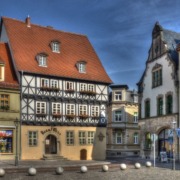 Bach arrived in Köthen coming from Weimar. The young Prince Leopold von Anhalt-Köthen had engaged him. The art-minded aristocrat himself played in the orchestra as a violinist, and Bach admitted that he "had an idea of music." Bach was able to rise socially in Köthen and held the title of Kapellmeister and Kammermusikdirektor (chamber music director). The orchestra included 17 professional musicians.
Bach's mission was mainly chamber and orchestral music. The six years in Köthen (1717-1723) were very productive; here he wrote, among other things, his solo violin pieces, the Well-Tempered Clavier, and the little book of notes (Notenbüchlein). He had probably already composed his Brandenburg Concertos in Weimar, but sold it during his Köthen years as a commissioned work for the Brandenburg regent, whom he had met on the occasion of a harpsichord purchase in Berlin.
Privately, tragedy struck him in 1720.When he returned home after a journey of several months, he had to learn that his wife Maria Barbara had died. Eighteen months later, he married Anna Magdalena Wilcke, a court singer 16 years his junior, who would bear 13 children, seven of whom would die in infancy. For the newly assembled family, Bach and his wife began compiling the famous "Notenbüchlein der Anna Magdalena Bach," dedicated to her, with compositions by Bach and his children.
In 1721 Leopold married and Bach had to realize that the new regent had no interest in music and the orchestra was disbanded. In 1723 Bach decided to take up a new position in Leipzig as Thomaskantor.
Destination Köthen Castle
There are four rooms in the castle with references to Johann Sebastian Bach, which are historically furnished as "Bach memorials". However, there are hardly any original Bach testimonies in Köthen. Thus, it is more of a round-up of the tour of the beautiful castle.
Köthen Castle:
https://www.bachstadt-koethen.de/
---
https://opera-inside.com/wp-content/uploads/2021/04/Kothen-Johann-Sebastian-Bach-Travel-Reisen-Culture-Tourism-Reisefuhrer-Travel-guide-Classic-Opera-e.jpg
643
1448
Operadmin
https://opera-inside.com/wp-content/uploads/2021/08/opera-inside-wp.png
Operadmin
2021-04-08 13:15:12
2021-04-26 11:34:49
Travel tips for Classic lovers - Köthen and Johann Sebastian Bach