Rossini in Bad Kissingen
The series about historical places of opera art & culture. Get to know exciting excursion and travel ideas for opera lovers. This time:  Rossini in Bad Kissingen
All Destinations on google maps with links to detailed Blogposts:
Rossini in Bad Kissingen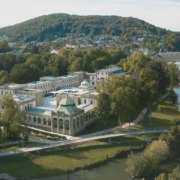 Rossini's medical record at the end of his life was very thick. The basic cause of his many ailments was gonorrhea, which he contracted relatively early in his life. In his Paris years, from the age of 35, the ailments became increasingly chronic and sometimes very painful. These included abdominal complaints, bronchitis and heart weaknesses, which were aggravated by obesity. Rossini had, probably triggered by the chronic pain, sometimes severe depression and suicidal thoughts. In order to find relief from his pain, Rossini often went to Spas.
In the summer of 1856, Rossini, who was chronically ill, visited spas in the Black Forest with his wife Olympe on the advice of his doctors. At first he went to the spa in Wildbad and then to Bad Kissingen to drink ferruginous water. In Bad Kissingen he stayed in the then Hotel Hailmann, today's Haus Collard. Rossini registered himself as "Joachim Rossini, knight of several high orders". Actually he wanted to travel incognito, but the very next afternoon he had to appear on the balcony because he was serenaded. A sign on the building reminds of the high visit from Paris.
House Collard, Bad Kissingen:
---
https://opera-inside.com/wp-content/uploads/2021/04/Bad-Kissingen-Gioachino-Rossini-Biografie-Biography-Life-Leben-Places-Orte-Music-Musik-Travel-Guide-Reisen-Reisefuhrer-e.jpg
627
1451
Operadmin
https://opera-inside.com/wp-content/uploads/2021/08/opera-inside-wp.png
Operadmin
2021-03-09 22:26:08
2021-04-24 07:48:22
Travel tips for opera lovers - Bad Kissingen and Gioachino Rossini