Sergej Prokofiev in Moscow
The series about historical places of opera art & culture. Get to know exciting excursion and travel ideas for opera lovers. This time: Sergej Prokofiev in Moscow.
All Destinations on google maps with links to detailed Blogposts:
Prokofiew in Moskau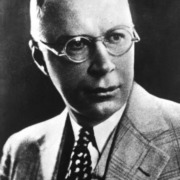 Prokofiev, a Russian exile, returned to Moscow in 1936 to remain permanently in the Soviet Union. This move still amazes many today, as he voluntarily submitted to the artistic constraints of Stalin's Bolshevik dictatorship. The period that followed was artistically very productive and the hoped-for surge in creativity that the composer wished for when he returned home became a reality.
The Ukrainian-born composer did not return to St. Petersburg, but to Moscow, where, due to the political situation, the center of the art scene was located.
Privately, the time was less happy. In the second half of the forties he married again. The marriage with his Spanish wife, who had come to Moscow with him, was dissolved and she was imprisoned in an internment camp for 8 years, allegedly because she had transferred money to Spain to her mother, which was then forbidden.
After a fall down the stairs, Prokofiev's health did not recover properly at the end of the forties, and a show trial, which he, Shoshakovich and Katchaturian were subjected to, was very hard on him. He finally died on the same day as Stalin, which is why no one took notice of his death and he was buried without festivities.
Destination Prokofiev Museum
The museum is located in Prokofiev's last apartment in Kamergersky Lane. One can see there everyday objects as well as stage sets, books and sheet music. The apartment consists of a living room, a study and two other rooms.
In addition, on the first floor there is also a small concert hall with his grand piano.
The visitor information is in Russian.
View of the museum:
---
Destination  Prokofiew monument
On the occasion of his 125th birthday, a statue of the composer was unveiled not far from his home, which is located in the traditional and car-free Kamergersky Lane.
Prokofiew monument:
---
Destination Natalya Sats Musical Theater
In 1936, Natalya Sats asked Sergei Prokofiev to write a work that would introduce children to orchestral instruments and that would cater to children's musical tastes.
Natalya Sats ran a children's theater as a state institution and approached Prokofiev, who had attended the theater with his sons. Prokofiev was enthusiastic about the idea of a work for children and set the libretto of "Peter and the Wolf" to music within a week with the first piano sketch. The first performance at the Moscow Conservatory was not successful, however, because Natalya became ill and the substitute narrator was inexperienced. A second performance with Natalya became a great success. When Prokofiev returned from his U.S. tour a year later, Sats was already in the Gulag because her husband, a minister, had fallen victim to a purge.
Sats sat in Siberia for 5 years, but was fully rehabilitated after Stalin's death. She rebuilt the children's theater and in 1965 erected a new building, which still bears her name as an institution.
Natalya Sats Musical Theater:
---
Destination Novodevichy cemetery
Here Prokofiev is buried with his second wife (section 3, row 47).His first wife (a singer) was able to leave the labor camp after the political thaw after nine years and after another 15 years the country where she could make a living from the royalties of Prokofiev's music outside the Eastern Bloc. She even made a recording of "Peter and the Wolf" as a narrator.
Also buried in this cemetery are Nicolas Gogol, Sergei Eisenstein (for whose famous films Alexander Nevsky and Ivan the Terrible Prokofiev wrote music), Nikita Khrushchev and Boris Yeltsin, among others.
Prokofiev's grave:
---
https://opera-inside.com/wp-content/uploads/2021/04/Moscow-Moskau-Sergei-Prokofiev-Museum-Life-Leben-Places-Orte-Music-Musik-Travel-Guide-Reisen-Reisefuhrer-e-1.jpg
617
1422
Operadmin
https://opera-inside.com/wp-content/uploads/2021/08/opera-inside-wp.png
Operadmin
2021-04-29 09:56:29
2021-04-29 11:19:43
Travel tips for opera lovers - Moscow and Sergej Prokofiev