Richard Strauss in Vienna
The series about historical places of opera art & culture. Get to know exciting excursion and travel ideas for opera lovers. This time: Richard Strauss in Vienna.
All Destinations on google maps with links to detailed Blogposts:
Richard Strauss in Vienna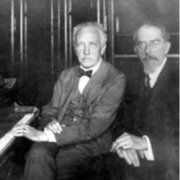 Along with Dresden, Vienna was Strauss's most important artistic station, two of his operas were premiered ("Ariande" and the 2nd Version of "Frau ohne Schatten") in the State Opera.
He held the office of State Opera Director for five years (1919-1924) and Hoffmansthal, his most important librettist was Viennese.
In addition, many of his Viennese operas were performed in Viennese settings (e.g. "Rosenkavalier" and "Arabella"). In 1924  the city of Vienna awarded him the honorary citizenship.
Destination Strauss Schlössel (Little Strauss castle)
Strauss had a prestigious 3-story house built on Jacquigasse by a renowned architect. The beautiful building still stands but can only be viewed from the outside as it is the seat of the Dutch embassy.
Strauss- Schlössel:
---
Destination  Griechenbeisl (Tavern)
In this building on Fleischmarkt there has been an inn for over 500 years. The name changed, but the inn remained. The history of this restaurant is amazing. Among others, Mozart, Schubert, Beethoven and Richard Strauss are said to have been here (more about this in the Wikipedia link below). The restaurant still radiates the Viennese charm and tastes tuts.
Griechenbeisl today:
Griechenbeisl 1910:
https://en.wikipedia.org/wiki/Griechenbeisl
---
https://opera-inside.com/wp-content/uploads/2021/03/Wien-Vienna-Richard-Strauss-Biografie-Biography-Life-Leben-Places-Orte-Music-Musik-Travel-Guide-Reisen-Reisefuhrer-e.jpg
591
1463
Operadmin
https://opera-inside.com/wp-content/uploads/2021/08/opera-inside-wp.png
Operadmin
2021-03-17 22:29:46
2021-06-06 15:59:34
Travel tips for opera lovers - Vienna and Richard Strauss