Johann Sebastian Bach in Eisenach and the Thuringian province
The series about historical places of classic, opera art & culture. Get to know exciting excursion and travel ideas for opera lovers. This time: Johann Sebastian Bach in Eisenach Thuringian province.
All Destinations on google maps with links to detailed Blogposts:
Johann Sebastian Bach in Eisenach and the Thuringian province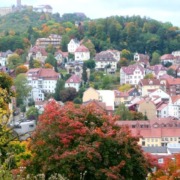 Bach's parents moved from Erfurt to EISENSTADT, where his father was the town piper and responsible for church music, among other things. Bach was born here and was the youngest of 8 children. The family's home on what is now Lutherstrasse no longer stands. Bach came into contact with music at an early age and was encouraged. When he was 8 years old, his mother died. His father married a widow, but soon after he too died. Johann Sebastian had become an orphan at the age of 8 and he moved with one of his brothers to his older brother Johann Christian in Orhdruf.
The latter was an organist there and had acquired his craft from Johann Pachelbel, among others. Thus Johann Sebastian received sound instruction from him. The small town of OHRDRUF had an excellent lyceum, where Bach, thanks to his tireless diligence, graduated with outstanding grades that entitled him to study at university. Because his brother's household had grown, he now had to stand on his own two feet. Together with his school friend Georg Erdmann, who was two years his senior, the 15-year-old decided to make the 300-kilometer journey to Arnstadt.
3 years later Bach returns to the area. In ARNSTADT he becomes organist of the new Bonifatius Church. He is well paid and composes many of his works for organ here. He begins to build his reputation as an organist, once even being called to Weimar to test an organ. Bach's reputation for not being an easy man becomes apparent in Arnstadt. He is constantly in conflict with the city council, which accuses him of neglecting his duties. In addition, he is often involved in fights with musicians and choir singers. He undertakes a trip to Lübeck to visit Buxtehude. The stay is a revelation for Bach. Bach is dissatisfied with the ability of the singers in the small town and so he decides to apply for the well-paid position of cathedral organist in Mulhouse. He passes the audition and in 1707 moves to Mühlhausen, 80 km to the north.
In MÜHLHAUSEN he rises in the hierarchy and becomes Kapellmeister of the church St. Blasii. The position is well paid and he can even supplement his salary by serving in secondary churches. Now he marries his love from Arnstadt Maria Barbara Bach, who will give birth to seven children, including the important composer Carl Philipp Emanuel. In 1707 a catastrophic town fire occurred in Mulhouse, destroying 300 houses, the fourth in 50 years. The city government was forced to raise taxes and the cost of living increased for Bach. When he traveled to Weimar for the completion of a renovation of the organ there, the prince offered him a job with a high salary. Bach accepted and announced his resignation from Mühlhausen after only one year.
---
Destination Stadtkirche St. Georg Eisenach
Eisenach is a historical Luther town, Luther went to school here for 2 years, in the church of St. George he also preached in adulthood. About 200 years later, Johann Sebastian Bach was baptized in this church. The 8-cornered baptismal font bears the date 1503 and so his baptismal font is still preserved.
Bach's father often played music in this church and Johann Sebastian also often sang here and learned to play the organ from a relative who was the organist in this church. Bach's parents were buried in the old cemetery (graves no longer exist).
Church St. Georg:
In front of the church once stood the statue that now stands in front of the Bach House (see below). Among others, Liszt and Clara Schumann had donated for it. In 1900, a statue of a serious-looking Bach was erected on the church grounds as a replacement. It is believed that the artist took a painting as a model, which was mistaken as a picture of Bach.
Bach statue:
---
Destination Bach house Eisenach
The Bach House at Frauenplan 21 is an excellent museum that introduces visitors to Bach's life. It was created in 1907 on this site in one of the oldest buildings in the city (built in 1458) in the (presumably) mistaken belief that it was the birthplace of Johann Sebastian. With the support of collections and donations, it was established as a museum. During the Second World War, the attic was burned out and quickly renovated. In 2007 a new neighboring building was built and the museum was extended there.
Bach house:
In the museum you can learn about the stages of Bach's life and walk through historically furnished rooms:
In addition, it has some historical instruments (from Bach's time, but no instruments have survived from Bach's possession), which can be listened to in short concerts played every hour. The building had mixed uses in Bach's time. The first floor was probably a stable and the garden a pasture and/or vegetable garden. Nowadays it is furnished as a baroque vegetable garden:
In front of the museum stands the majestic Bach statue:
---
Destination Michaelis Church Ohrdruf
Here Bach acquired his first mastery of the organ with the help of his older brother, and he also sang in the church choir.
The church St. Michaelis was destroyed in 1945 during an air raid except for the tower. The tower was restored and a viewing platform was added.
St. Michael's Church Ohrdruf:
---
Destination Arnstadt
There are still many traces of the Bach family in this town, houses where parts of the Bach family had lived. In the town museum you can see Bach's employment contract. He only had to be on duty as organist in the Bonifatius Church on three days and thus had plenty of time to compose. Because the Bonifatius Church (today it is named after Bach) had been rebuilt after a fire, Bach was able to play on a brand new Wender organ. This organ has since been restored twice and is still in use today:
Wender Organ in the Johann Sebastian Bach Church:
Moreover, he does not need to wear a wig when on duty and one can see a statue of Bach without a wig in the town. However, this portrait should be taken with caution, since there is no picture from his younger years.
Bach Statue:
---
Destination Mühlhausen
The imposing church Divi Blasii is one of 11 churches of the old Thuringian town. Interestingly, this church received a new organ in 1959, which was built according to Bach's surviving historical instructions for the organ in Mühlheim. This church is now a museum, regular concerts are held here (tickets can be booked through regular ticket providers).
Divi Blasii:
Please note the limited opening hours!
https://www.muehlhausen.de/kultur-tourismus/muehlhausen-entdecken/sehenswuerdigkeiten/kirchen/bach-kirche-divi-blasii/
---
Destination Bartholomäus Churchin Dornheim
Johann Sebastian Bach got married here in 1707. The wedding party came on foot from nearby Arnstadt. This tradition became an attraction, the church has become a popular wedding destination and some wedding party do like the famous Bachs and come on foot to this romantic church.
Bartholomäus Church:
Bach wrote the wedding cantata "Der Herr denket an uns" for this event:
---
https://opera-inside.com/wp-content/uploads/2021/04/Eisenach-Johann-Sebastian-Bach-Travel-Reisen-Culture-Tourism-Reisefuhrer-Travel-guide-Classic-Opera-e.jpg
605
1451
Operadmin
https://opera-inside.com/wp-content/uploads/2021/08/opera-inside-wp.png
Operadmin
2021-04-07 12:04:51
2021-04-08 14:35:35
Travel tips for classic lovers - Eisenach and Johann Sebastian Bach