Johann Sebastian Bach in Erfurt
The series about historical places of classic, opera art & culture. Get to know exciting excursion and travel ideas for opera lovers. This time: Johann Sebastian Bach in Erfurt.
All Destinations on google maps with links to detailed Blogposts:
Johann Sebastian Bach in Erfurt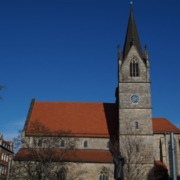 Johann Sebastian Bach never lived in Erfurt, but often visited the place for family celebrations.
However Erfurt can justifiably be called the cradle of the Bach family. More than 150 baptisms, weddings and funerals are recorded in the Kaufmannskirche, where Luther, among others, had preached. Johann Sebastian Bach's parents were also married in this church. After their marriage they moved to Eisenach.
Destination Krämerbrücke (Merchant's bridge)
Johann Sebastian Bach's father got his first job as a town musician in Erfurt. During the examination he had to prove that he could play on 10 instruments. He moved into the Haus zum schwarzen Ross (House to the black horse) on the Krämerbrücke (Merchants' Bridge) as his official residence. This unique structure is the largest built bridge in Europe and is still covered with half-timbered houses in the medieval style.
House to the black horse (at the back):
http://www.kraemerbruecke.de/de
---
Destination Kaufmannskirche (Merchant's church)
Here, in the Kaufmannskirche, all the festivities of the Bach family took place.
Kaufmannskirche:
---
https://opera-inside.com/wp-content/uploads/2021/04/Erfurt-Johann-Sebastian-Bach-Travel-Reisen-Culture-Tourism-Reisefuhrer-Travel-guide-Classic-Opera-e-1.jpg
606
1447
Operadmin
https://opera-inside.com/wp-content/uploads/2021/08/opera-inside-wp.png
Operadmin
2021-04-07 10:19:08
2021-04-26 09:40:09
Travel tips for classic lovers - Erfurt and Johann Sebastian Bach