Felix Mendelssohn Bartholdy in Frankfurt
The series about historical places of opera art & culture. Get to know exciting excursion and travel ideas for opera lovers. This time: Felix Mendelssohn Bartholdy in Frankfurt.
All Destinations on google maps with links to detailed Blogposts:
Mendelssohn in Frankfurt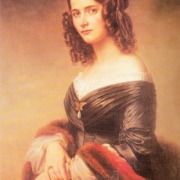 Frankfurt was a frequent destination for Mendelssohn even in his early years. The excellent Cecilia Choir with its director Schelbe became dear to his heart, and as a 24-year-old he temporarily directed the choir in addition to his full-time post in Düsseldorf when Schelble fell ill. He had even composed his "Paulus" for a performance in Frankfurt, but had to perform it in Düsseldorf because of Schelble's illness.
In the fall of 1836, he met Cécile Jeanrenaud, a good-looking soprano in the Cäcilienchor. He fell in love with her and they soon became engaged. The bride came from an upper bourgeois family with roots in Neuchâtel (Switzerland) and important and varied connections to the best circles in Frankfurt, to which the two made 163 visits to announce the marriage. Cécile, eight years younger than Mendelssohn, would bear four children in Leipzig and die at the age of 36, six years after Mendelssohn, in Frankfurt, where she had returned after the death of her husband. Her burial place, still preserved in the family tomb, is in Frankfurt's main cemetery.
Destination Mendelssohnruhe (Mendelssohn's rest)
The Mendelssohnruhe is located somewhat isolated from public roads on a forest path in the eastern part of the Frankfurt city forest called Oberwald. In July 1839, citizens of Frankfurt organized a festival in the forest in honor of Felix Mendelssohn Bartholdy. The composer is said to have been inspired to write some of his compositions by walks in the Stadtwald, including some of the Sechs Lieder im Freien zu singen (Six Songs to Sing Outdoors), which was laid out as three song cycles. Several of these songs were premiered at the celebration in the forest by a choir. The composer himself took part in the celebration and later reported on it in letters. To commemorate the event, the Jeanrenaud family, family of Mendelssohn's wife Cécile Charlotte Sophie Mendelssohn Bartholdy (1817-1853), donated a memorial stone in 1909 – an erratic boulder made of syenite, nearly one meter high, with a masonry base and a bronze plaque with an inscription by an unknown artist. The Mendelssohnruhe was destroyed in 1934, during the Nazi period, and the memorial stone was buried on the spot by forest workers. In 1948, after the end of the Second World War, the stone was dug up again and the memorial was restored on the spot. (source: wikipedia, own translation)
Due to its location on a dirt road in the middle of the forest, the Mendelssohnruhe can be reached directly only on foot, by bicycle or on horseback (see also map above). The nearest stop of the streetcar line 17 is Oberschweinstiege. From there, Welscher Weg leads southeast toward Neu-Isenburg. The first forest path branching off diagonally to the right in a southerly direction leads directly past Mendelssohnruhe. The distance to be covered is about one kilometer. The next parking lot is about one kilometer northwest of the Mendelssohnruhe on a side path of the Isenburger Schneise. (Source: wikipedia, own translation)
Mendelssohnruhe:
---
https://opera-inside.com/wp-content/uploads/2021/04/Felix-Mendelssohn-Bartholdy-Frankfurt-Travel-Reisen-Culture-Tourism-Reisefuhrer-Travel-guide-Classic-music-Opera.jpg
628
1450
Operadmin
https://opera-inside.com/wp-content/uploads/2021/08/opera-inside-wp.png
Operadmin
2021-04-12 14:58:49
2021-05-02 15:05:26
Travel tips for classic lovers - Frankfurt and Felix Mendelssohn Bartholdy