Franz Liszt in Paris
The series about historical places of opera art & culture. Get to know exciting excursion and travel ideas for opera lovers. This time: Franz Liszt in Paris.
All Destinations on google maps with links to detailed Blogposts:
Franz Liszt in Paris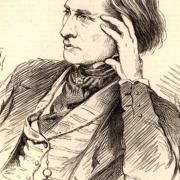 Franz Liszt came to Paris with his father in 1823 as a 12-year-old child prodigy. The conservatory director Cherubini rejected his application because foreigners were not admitted to the conservatory. Liszt subsequently became an attraction in the salons as a child prodigy, and he made countless concert tours abroad with his father. Unprecedented failures as a composer and the death of his father on a concert tour plunged the 17-year-old into a severe crisis, during which he sought solace in faith and brought his compositional activities to a complete halt. At the age of 21, he met Marie d'Agoult, a married woman five years his senior. An affair developed in which Marie became pregnant and had a child. When the affair became public, it became a scandal and damaged the artist's reputation.
In this period also falls the famous pianist duel with the other "piano god" Sigismund Thalberg. In a legendary "showdown" in the salon of the Princess Belgiojoso in the rue d'anjou 23 (no longer exists), she passed the verdict: "Thalberg est le premier pianiste du monde, Liszt, lui, est le seul". (Thalberg is the first pianist in the world, Liszt is the only one). The couple escaped Italy for a long time, and the two returned after two years. There Liszt made friends especially with Georges Sand, Frederic Chopin and Hector Berlioz and got acquainted with all the artistic elite of Paris. From the age of 30 Liszt visited Paris only sporadically.
Of the places where Liszt had worked, most have disappeared, one of the few being the literary salon of the painter Ary Scheffler, which has been transformed into a charming little museum called "Le Musée de la Vie Romantique".
Destination Musée de la vie romantique
This house is one of the rare contemporary witnesses of the world of Parisian salons. In this house the artist Ary Scheffer received the artistic and literary society, such as Chopin, George Sand, Liszt, Rossini, Delacroix, Pauline Viardot and many others. The house shelters on the lower floor an apartment arranged with furniture from the estate of George Sand, on the upper floor there is a furnished salon, as well as an art exhibition of the painter.
Musée de la vie romantique:
A look inside the museum:
https://museevieromantique.paris.fr/fr
---
https://opera-inside.com/wp-content/uploads/2021/04/Paris-Franz-Liszt-Travel-Reisen-Culture-Tourism-Reisefuhrer-Travel-guide-Classic-Opera-e.jpg
566
1305
Operadmin
https://opera-inside.com/wp-content/uploads/2021/08/opera-inside-wp.png
Operadmin
2021-04-01 11:32:56
2021-05-07 14:29:41
Travel tips for classic lovers - Paris and Franz Liszt