Rossini in Lucca
The series about historical places of opera art & culture. Get to know exciting excursion and travel ideas for opera lovers. This time: Rossini in Lucca
All Destinations on google maps with links to detailed Blogposts:
Rossini in Lucca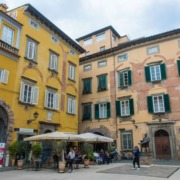 On the evening of September 17, 1831, an earthquake in operatic art occurred at the Teatro del Giglio in Lucca. The French tenor Gilbert Duprez sang the first C in Rossini's William Tell from the chest, the so-called "Ut en poitrine". Until now, the norm was to sing these top notes from the falsetto. When Rossini heard this sound for the first time, he is said to have been repulsed, saying "it sounds like the cry of a capon having its throat cut."
Duprez's fame grew over the next few years, and he subsequently displaced his famous rival Adolphe Nourrit as first tenor in Paris. The latter, unable to sing the C from the chest, fled to Naples, where he subsequently committed suicide.
In the caricature, you can see Duprez's distended ribcage and widened eyes when singing the high C.
Caricature of Gilbert Duprez:
https://www.teatrodelgiglio.it/it/home/
Teatro del Giglio Lucca:
https://www.teatrodelgiglio.it/it/
---
https://opera-inside.com/wp-content/uploads/2021/03/Lucca-Gioachino-Rossini-Biografie-Biography-Life-Leben-Places-Orte-Music-Musik-Travel-Guide-Reisen-Reisefuhrer-e.jpg
622
1424
Operadmin
https://opera-inside.com/wp-content/uploads/2021/08/opera-inside-wp.png
Operadmin
2021-03-11 09:26:37
2021-06-11 17:37:54
Travel tips for opera lovers - Lucca and Gioachino Rossini