Wagner in Magdeburg / Lauchstädt
The series about historical places of opera art & culture. Get to know exciting excursion and travel ideas for opera lovers. This time: Wagner in Magdeburg / Lauchstädt.
All Destinations on google maps with links to detailed Blogposts:
Wagner in Magdeburg / Lauchstädt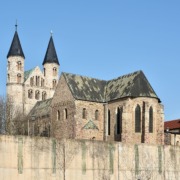 After a year as choir director in Würzburg, which his brother and theater director Albert had helped him to get, the 21-year-old Wagner became music director in Magdeburg. Right at the beginning of his stay, he met Minna Planner, who had an engagement at the theater as "first lover". They began a stormy affair with later engagement and marriage in Königsberg.
Wagner made his debut as Kapellmeister with Don Giovanni at the Goethe Theater in the spa town of Bad Lauchstädt, where the theater company made a summer guest appearance. Wagner was praised, but the economic situation of the theater was desolate and after the first season it went bankrupt. The next year he rehearsed his opera "das Liebesverbot". Already in the second performance the audience was missing and a wild brawl among the theater staff forced Wagner to stop the performance.
Minna received an engagement to Königsberg and Wagner followed her in 1836.
Destination Goethe Theater Lauchstädt:
The Goethe Theater was inaugurated in 1802 in the presence of Goethe and is still an active spoken theater today. When Wagner made his debut in 1834, the wooden theater was rotten, the roof had sunk a meter and had to be provisionally supported with stone columns.
Goethe Theater Lauchstädt:
---
Destination Wagner house Bad Lauchstädt
Richard Wagner stayed in this neat little house during his stay at the Goethe Theater. Minna Planner was also a guest in the same house. On the very first day, Wagner is said to have wooed Minna at the window. At number 22 there is also a boarding house where Wagner stayed.
Goethestrasse 14 Bad Lauchstädt:
Minna Planner:
---
Destination Breite Weg Magdeburg
Wagner's extravagance was already apparent in his younger years, and he was soon overindebted. He wrote in a letter: "My small apartment on the 'Breite Weg' had become highly repugnant to me, since I found a court summons nailed to the door every time I returned home; from then on I avoided it completely."
The rows of houses were destroyed during the Second World War.
Historic picture Breite Weg:
---
https://opera-inside.com/wp-content/uploads/2021/04/Magdeburg-Richard-Wagner-Biografie-Biography-Life-Leben-Places-Orte-Music-Musik-Travel-Guide-Reisen-Reisefuhrer-e.jpg
565
1305
Operadmin
https://opera-inside.com/wp-content/uploads/2021/08/opera-inside-wp.png
Operadmin
2021-04-15 10:51:24
2021-05-02 14:13:40
Travel tips for opera lovers - Magdeburg and Wagner