The series about historical places of opera art. Get to know exciting excursion and travel ideas for opera lovers. This time: The Munich Nationaltheater
All Destinations on google maps with links to detailed Blogposts:
King Ludwig II. of Bavaria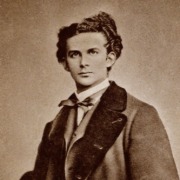 Richard Wagner was completely penniless in 1864 after his Tristan fiasco in Vienna. What he did not know was that Ludwig II left the theater in 1861 after a performance of Lohengrin, deeply moved and in tears. When he called Wagner to Munich in this fateful year of 1864, he rescued the composer from his greatest life crisis. He subsequently became his patron.
However, Wagner's exorbitant demands placed an excessive burden on the state coffers, and in 1865 Wagner had to leave Munich against the king's will under pressure from the royal government.
Destination: The Munich National Theater
Today, the Munich National Theater is home to the Bavarian State Opera, the Bavarian State Orchestra and the Bavarian State Ballet. It was the premiere venue for "Tristan und Isolde," "Meistersinger von Nürnberg," "Die Walküre" and "Rheingold." The latter two were performed against Wagner's will and in his absence. During the Second World War, the building was severely damaged by air raids. The house is an important opera theater and can also be visited with guided tours.
The Bavarian State Opera:
---
Reiseziel Wagner monument
The Wagner monument was created on a solid block of marble. It was unveiled to mark the composer's 100th birthday in 1913. Wagner's widow Cosima refused to take part because she was piqued by the city of Munich, as they were competing with the festival venue Bayreuth with their own performances.
---
Musical Background – the world premiere of "Meistersinger von Nürnberg" in Munich
Hans von Bülow was the conductor of the premiere. Wagner had stolen his wife Cosima from him years before. Von Bülow suffered greatly from this, which did not diminish his artistic esteem for Wagner. At the time of the rehearsals for the premiere of Die Meistersinger, Cosima had two children by each of the two men, but was officially still together with Bülow. Because Wagner did not want to be without Cosima in Munich and the appearance of marriage had to be maintained, the three of them lived under one roof for months.
The premiere took place on June 21, 1868, at the Royal National Theater in Munich in the presence of the king. It was acclaimed and Wagner received one of the greatest ovations of his life. Wagner accepted the applause in the king's box. In doing so, he violated court etiquette when he stepped forward and bowed there, which was reserved only for the king. But the king stood blissfully two steps behind him, and wrote a letter of homage to the master in the morning hours.
Link to the opera portrait of the "Meistersinger von Nürnberg":
https://opera-inside.com/die-meistersinger-von-nurnberg-von-richard-wagner-the-opera-guide-and-synopsis/
---
https://opera-inside.com/wp-content/uploads/2021/03/Munchen-Munich-Richard-Wagner-Biografie-Biography-Life-Leben-Places-Orte-Music-Musik-Travel-Guide-Reisen-Reisefuhrer-e.jpg
566
1332
Operadmin
https://opera-inside.com/wp-content/uploads/2021/08/opera-inside-wp.png
Operadmin
2021-03-01 15:12:01
2021-05-12 17:21:45
Travel tips for opera lovers - Munich and Richard Wagner