Richard Wagner's traces in Venice
The series about historical places of opera art. Get to know exciting excursion and travel ideas for opera lovers. This time: a palazzo and a church
All Destinations on google maps with links to detailed Blogposts:
Wagner in Venice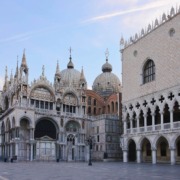 Wagner visited Venice half a dozen times. He often stayed briefly at the Danieli and then took up quarters in another place. In 1858 he visited Venice for the first time and had his grand piano brought over the Alps from Zurich, where he composed the second act of "Tristan und Isolde" in the Palazzo Giustiniani.
Four more visits took him to Venice in the following 30 years. Finally, he met his death in Venice.
Destination Basilica dei frari: Assunta by Titian
Wagner's visit in 1861 was only brief. He is disappointed to discover that Mathilde von Wesendonck is pregnant by her husband and that the love affair has come to an end. His dejection is blown away after a visit to Titian's "Assunta" (the monumental depiction of the Assumption) in the Accademia and he decides to compose his great renunciation opera "Die Meistersinger von Nürnberg". Meanwhile, the Assunta is no longer in the Accademia, but back in the Basilica dei frari, for which it was created in 1517 and where it can be seen (in restoration at the time of printing).
https://www.basilicadeifrari.it/opere/assunta/
Assunta by Titian:
---
Destination Palazzo Vendramin Venice
In the winter of 1882/83, the Wagner family spent several months in the lagoon city. Wagner was in poor health and died in the palazzo on February 13, 1883. In the meantime, the palazzo belongs to the city of Venice and it runs a casino there. There is a small Museo-Wagner in the side wing. In the garden there is a memorial plaque made by Gabriele d'Annunzio.
https://www.casinovenezia.it/it/museo-wagner
Palazzo Vendramin:
Canaletto's Painting of the Palazzo Vendramin:
Richard Wagner Museum in Palazzo Vendramin:
---
Destination Caffè Lavena
Richard Wagner was often in Venice in his late years and always frequented the Caffè Lavena in the procuratie vecchie, the northern arcades of St. Mark's Square. He became friends with the Signore Lavena and always came at the same hour accompanied by his private gondolier and sometimes with his children to whom he bought an ice cream there.
Caffè Lavena at St. Mark's Square:
---
Musical Background: "Meistersinger" and Venice
At the invitation of his Zurich patrons, the Wesendonck couple, Wagner spent a few days with them in Venice in 1861. There he discovered that his secret lover Mathilde Wesendonck was pregnant with her husband's fifth child. After the love affair was already in a crisis, Wagner realized that this love, which inspired him to "Tristan & Isolde" was over. Now Wagner decided to philosophically transcend this indirect "rejection" and saw himself as Hans Sachs, who renounced love for noble reasons.
The philosophical framework for this was provided by Schopenhauer's work "Die Welt als Wille und Vorstellung" (The World as Will and representation"), which he had become acquainted with a few years earlier. In Schopenhauer's pessimistic view of the world, the will of the predator "man" results in destructive torments. This inherent mania leads to war, self-destruction and loss of love, whose only way out is renunciation (of the will).
Sachs "Wahn-monologue" from "Meistersinger von Nürnberg":
https://opera-inside.com/die-meistersinger-von-nurnberg-von-richard-wagner-the-opera-guide-and-synopsis/#Wahn
---
https://opera-inside.com/wp-content/uploads/2021/03/Venedig-Venice-Richard-Wagner-Biografie-Biography-Life-Leben-Places-Orte-Music-Musik-Travel-Guide-Reisen-Reisefuhrer-e.jpg
621
1423
Operadmin
https://opera-inside.com/wp-content/uploads/2021/08/opera-inside-wp.png
Operadmin
2021-03-01 12:24:52
2021-06-12 13:25:27
Travel tips for opera lovers - Venice and Richard Wagner