Felix Mendelssohn Bartholdy in Edinburgh / Scotland
The series about historical places of opera art & culture. Get to know exciting excursion and travel ideas for opera lovers. This time: Felix Mendelssohn Bartholdy in Edinburgh / Scotland.
All Destinations on google maps with links to detailed Blogposts:
Felix Mendelssohn in Edinburgh / Schottland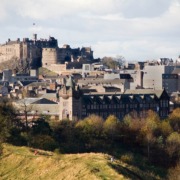 After his acclaimed visit to London, Mendelssohn set out on a tour of Scotland at the end of July 1829. He was accompanied by Karl Klingemann, his friend from Berlin days and, as a member of the Hanoverian legation in London, Mendelssohn's landlord during his London stays.
Mendelssohn felt inspired by the landscape and buildings for his music and made many sketches. However, he was not impressed with Scottish bagpipe music. Although he imitated it in his Scottish Symphony, he called it vulgar and claimed to have already gotten a toothache from it….
Destination Holyrood Palace
Mendelssohn visited both the chambers that Mary Stuard, Queen of Scots, had occupied in the castle some 300 years earlier, and the room where, under Mary Stuard's eyes, her secretary and lute player David Rizzio had been murdered with 56 knife wounds (her husband suspected he was her lover).
https://www.rct.uk/visit/palace-of-holyroodhouse
Mary Stuards chambers:
Dageurre's painting from 1824:
The murder of David Rizzio (painting):
The castle had a troubled past; parts burned down, for example, during the occupation by Cromwell's troops. Mendelssohn was inspired by the ruins and wrote in a letter: "It is all broken, rotten and the serene sky shines in. I think I found the beginning of my Scottish Symphony there today." He jotted down 10 measures that would become the symphony's opening theme, he later recounted.
Introduction of the Scottish Symphony (Nr. 3):
---
Destination Fingals Cave
Mendelssohn was particularly taken by the Isle of Staffa. The columns formed from cooled lava flows and the resulting Fingal's Cave impressed the German. This landscape, of the island belonging to the Hebrides, inspired him to write the so-called "Hebrides Overture". The work is entirely in minor key and the theme of the overture is supposed to represent the swell of the sea. Even Richard Wagner had to admit the "Jewish" composer to be a "first-class landscape painter".
Fingals Cave:
Mendelssohn began this work in 1829, having received the inspiration for it on a trip to England and Scotland, when on this occasion he visited Fingal's Cave on the Scottish island of Staffa with the poet Karl Klingemann, a friend of his, on August 7, 1829.
The Hebrides Overture:
---
https://opera-inside.com/wp-content/uploads/2021/04/Edinburgh-Scottland-Felix-Mendelssohn-Bartholdy-Travel-Reisen-Culture-Tourism-Reisefuhrer-Travel-guide-Classic-Opera-e.jpg
588
1453
Operadmin
https://opera-inside.com/wp-content/uploads/2021/08/opera-inside-wp.png
Operadmin
2021-04-11 15:46:12
2021-05-25 07:59:15
Travel tips for Classic lovers - Edinburgh Scotland and Felix Mendelssohn Bartholdy