Anton Bruckner in St. Florian
The series about historical places of opera art & culture. Get to know exciting excursion and travel ideas for opera lovers. This time: Anton Bruckner in St. Florian.
All Destinations on google maps with links to detailed Blogposts:
Anton Bruckner in St. Florian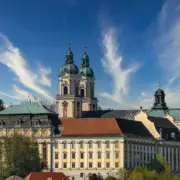 Bruckner was 14 years old when his father died. At the request of his mother, he was admitted to the St. Florian Stift, where he became a member of the Boys' Choir because of his beautiful soprano voice. While there, he also received instrumental lessons, including improvising on the organ. He left St. Florian to learn the teaching profession at the preparatory school in Linz.
At the age of 20, he had passed the teacher's examination and was employed in St. Florian as an assistant teacher, remaining there until the age of 31. He began to compose his first serious works. In 1855 he moved to Linz, where he was able to devote himself fully to music as cathedral organist.
Bruckner never forgot his time at St. Florian's, and as he grew older, it was the deeply religious Bruckner's fervent wish to be buried at St. Florian's. This wish was granted to him.
Destination St. Florian's Stift
The magnificent monastery can be visited on guided tours.
Marble hall:
http://www.stift-st-florian.at/en/home.html
http://www.stift-st-florian.at/en/home.html
Bruckner often returned for visits even after he had left the monastery and always stayed overnight in room number four, which is still called the "Bruckner Room" today and is available as a guest room.
Bruckner room(1920):
Bruckner room (today):
The large organ of the collegiate church was extended and overhauled for the first time in 1874. Naturally, Bruckner played on the inauguration occasion of this organ. The console can be seen today in the Bruckner Museum in Ansfelden. Further adjustments and overhauls have been made since then, but part of the organ is still faithful to the original and bears the name "Bruckner organ".
The Bruckner organ:
At his own request, Bruckner was buried on October 11, 1896 in the crypt of the collegiate basilica directly under the great organ. On the base of the sarcophagus you can read the inscription "Non confundar in aeternum" (In eternity I will not be lost), it is the closing line of his Tedeum.
Bruckner sarcophagus:
Bruckner memorial stone:
---
Destination Brucknertage (Bruckner festival)
Since 1997, the St. Florian Bruckner Days have been held annually at St. Floriansstift. During 10 days in the third week of August, various musical performances (not only by Bruckner) and lectures are given. This unique unity of place, composer and work has become a renowned event.
---
Destination Bruckner Symphony Trail
You can take a 2 ½ hour hike from his birthplace Ansfelden to St. Florian. The path leads through nature and has 10 stations with musical and biographical explanations of Bruckner's 10 symphonies (counting the zeroth). At the Bruckner Museum Ansfelden mp3 players can be rented. The return trip can be made by cab.
A stop on the symphony hiking trail:
http://www.antonbrucknercentrum.at
http://anton-bruckner.heimat.eu/sinfoniewanderweg.htm
---
Musical excursion: Bruckner's Te Deum
Bruckner wrote his "Te Deum" in his late phase, in which he wrote almost exclusively symphonic works. The last major sacred work dated back 20 years. In a letter to Hermann Levi, he wrote why he had composed another sacred work: "it is dedicated to the dear God, in thanksgiving for so many sufferings survived in Vienna," by which he meant the hostility of his critics, above all Hanslick. Bruckner composed a work with bold harmonies and tonal expressivity for a large symphony orchestra. He wrote on the title page "for choir, solos and orchestra, organ ad libitum" from which Gustav Mahler wrote after its enthusiastically celebrated Hamburg performance in 1892 "for angels' tongues, the blessed, tormented hearts and fire-brightened souls!"
Listen to the last part of this work, which ends with the lines "In te, Domine, speravi: non confundar in aeternum." Bruckner composed a tremendous fugue for this conclusion, which ends with a climax in radiant C major.
Finale Te deum:
---
https://opera-inside.com/wp-content/uploads/2021/04/St.-Florian-Anton-Bruckner-Travel-Reisen-Culture-Tourism-Reisefuhrer-Travel-guide-Classic-Opera-e.jpg
607
1452
Operadmin
https://opera-inside.com/wp-content/uploads/2021/08/opera-inside-wp.png
Operadmin
2021-04-05 15:47:11
2021-05-02 14:50:09
Travel tips for classic lovers - St. Florian and Anton Bruckner