Rossini in Naples
The series about historical places of opera art & culture. Get to know exciting excursion and travel ideas for opera lovers. This time:  Rossini in Naples.
All Destinations on google maps with links to detailed Blogposts:
Rossini in Naples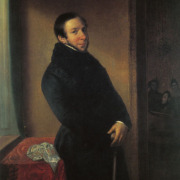 At the age of 21 Rossini had established a formidable reputation in northern Italy with "Tancredi" and "Italiana in Algeri".
The legendary impresario Barbaja, the impresario of the Naples Opera House San Carlo and the Teatro Fondo, offered him the theater management of perhaps the most prestigious theater in Italy. For Rossini it was the opportunity to write regular works for a star ensemble whose superstar was the "Primadonna Assoluta" Isabel Colbran, at the same time Barbaja's mistress. Rossini accepted and subsequently wrote 9 operas for Naples and took Colbran as his mistress, Barbaja does not seem to have minded.
Rossini stayed in Naples for seven years, working like a madman, writing for other theaters besides (for example the "Barbiere di Siviglia" for Rome), and leading the Teatro San Carlo to its first golden years of the 19th century.
In 1822 he left Naples and married Isabelle Colbran in Bologna.
Destination  Teatro San Carlo
After the Napoleanic wars, the bloody Restoration fights brought the Bourbons to power in Naples. The opera enthusiast Ferdinand II lifted the ban on gambling and the clever impresario Barbaja seized the opportunity to make the Teatro San Carlo the largest gambling house in Naples.
He brought Rossini from Venice and made him the main composer and artistic director of the Teatro San Carlo and the smaller Teatro Fondo (is today a spoken theater under the name "Mercadante").
While Rossini and the stars with their horrendous fees ensured full houses and attracted many rich visitors, Barbaja earned a golden nose with the guests at the gambling tables, especially the roulette, newly imported from Paris, thrilled tout Naples. Thus one must imagine the Teatro San Carlo of the year 1815 as a gambling den and restaurant with an attached theater with 2,000 seats. For the public, the opera was not a temple of musical devotion, but a busy, social place.
In 1816, a year after Rossini's arrival, the San Carlo burned down and the brilliant Barbaja managed to rebuild the theater in its finest splendor within 12 months. Visit the beautiful San Carlo in an opera performance or in one of the regular guided tours, it is still worth it.
Teatro San Carlo:
https://www.teatrosancarlo.it/it/
---
Destination Palazzo Barbaja
In the busy pedestrian street Via Toledo was in number 205 the Palazzo Barbaja in which Rossini lived for a long time. The facade is still more or less original. An anecdote says that Barbaja once locked Rossini in the palazzo so that the tardy Rossini could finish writing his "Otello", which was five months behind schedule. The house today offers store space on the first floor and apartments upstairs.
Palazzo Barbaja:
---
https://opera-inside.com/wp-content/uploads/2021/04/Naples-Neapel-Napoli-Gioachino-Rossini-Biografie-Biography-Life-Leben-Places-Orte-Music-Musik-Travel-Guide-Reisen-Reisefuhrer-d.jpg
630
1456
Operadmin
https://opera-inside.com/wp-content/uploads/2021/08/opera-inside-wp.png
Operadmin
2021-03-08 22:40:55
2021-04-22 13:46:58
Travel tips for opera lovers - Naples and Gioachino Rossini