Bellini in Paris
The series about historical places of opera art & culture. Get to know exciting excursion and travel ideas for opera lovers. This time: Bellini in Paris.
All Destinations on google maps with links to detailed Blogposts:
Bellini in Paris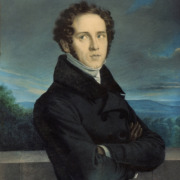 When Bellini appears in Paris in 1833, he is welcomed with open arms. Rossini helps his compatriot and the famous young Cristina Belgiojoso (whose family Bellini met in Milan) welcomes him to her famous salon, where he meets an incredible crowd of artists such as Chopin, Liszt, Rossini , Heine, Victor Hugo, George Sand and, and, and.  Bellini enjoys the life in the salons and starts his last opera "I Puritani", which becomes an unsurpassable triumph in the "Théâtre des Italiens" with the century cast Grisi, Rubini, Tamburini and Lablache in 1835.
Bellini wrote "i Puritani" as a guest at the home of the mysterious Salomon Levy in Puteaux, near Paris, where he retired during the summer months. In the summer of 1835, the intestinal problems from which Bellini had suffered since 1828 intensified. Friends who wanted to visit him were turned away by the gardener. The friends organized the visits of official doctors who demanded admission and met a weakened composer. Despite treatment, his condition did not improve and again the ominous gardener denied access to visitors. On September 23, Bellini, who was only 34 years old, died, with only the gardener said to have been at his bedside. Immediately the suspicion of poisoning arose in connection with Levy's financial machinations. Rossini pushed for an autopsy of the corpse. This well-founded autopsy gave amoebic dysentery as the cause, caused by inflammation and deposits in the intestines and a fist-sized abscess on the liver.
Destination Puteaux
Well, this place, where Bellini died in Villa Levy, no more deserves the name "destination", meanwhile this section belongs to the greater Paris region and has turned into a faceless banlieue, dominated by traffic and ugly high-rise buildings. On the wall of such a skyscraper and in the midst of garbage containers, the composer was granted a memorial plaque model "very affordable", on a street and in a neighborhood that bears his name.
Commemorative Plaque in Puteaux:
---
Destination Cemetery Père Lachaise
In 1835 Bellini was honored with great sympathy at a state funeral in the Invalides Cathedral and laid to rest in the Père Lachaise. Giulia Grisi, who had sung in the triumphant "I Puritani" only 8 months earlier, sang the Lacrimosa to the tune of "Credeasi misera" from "I Puritani" and 350 choristers sang pieces by Bellini. He was buried in Section 11, where 14 years later and only a few meters away, Frédéric Chopin, who also died young, would be buried. In 1876 Bellini's body was transferred to Catania, but the grave was kept.
Bellini's Tomb:
https://www.paris.fr/equipements/cimetiere-du-pere-lachaise-4080
---
https://opera-inside.com/wp-content/uploads/2021/03/Paris-Vincenzo-Bellini-Reisefuhrer-Travelguide-Classical-Music-Klassische-Musik-Oper-Opera-Kultur-Culture-e.jpg
630
1449
Operadmin
https://opera-inside.com/wp-content/uploads/2021/08/opera-inside-wp.png
Operadmin
2021-03-14 14:54:48
2021-05-07 14:26:41
Travel tips for opera lovers - Paris and Bellini