Mozart  in Salzburg
The series about historical places of opera art. Get to know exciting excursion and travel ideas for opera lovers. This time: Mozart in Salzburg
All Destinations on google maps with links to detailed Blogposts:
Mozart in Salzburg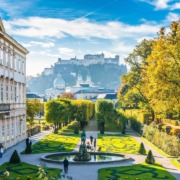 Mozart was born in Salzburg in 1756. He was the seventh child but only the second child after his beloved sister Anna ("Nannerl") to survive the first months of life. He and his sister received in early age music lessons from their father Leopold. The experienced musician quickly recognized the talents of both of them and they were very much stimulated musically. A first concert tour to Munich with the 6-year-old child prodigy Wolfgang and the 11-year-old Nannerl was very successful, and in 1763 they went on a 3-year-long child prodigy tour through Western Europe, which took them to Munich, Paris, London and Amsterdam, among other places.
Back in Salzburg, Mozart suffered one of the many illnesses in his life, wild smallpox caused the 9 year old to have deep pockmarks on his face.
From the age of eleven until the age of eighteen, his center of life was Salzburg, but he was often absent during long periods of time for example in Vienna, at the Seeon monastery, and several times on major trips to Italy, which took him to Milan, Bologna, and Naples, among other places.
In 1772 the new Archbishop Colloredo took office and Mozart was appointed concertmaster at the age of fifteen. After two years, Wolfgang and Leopold purposefully tried to establish footholds outside of Salzburg in order to escape the sometimes tiresome and poorly paid routine service of the court.
In 1777 Mozart asked for his dismissal and, accompanied by his mother, tried in vain to find a good job in various cities. On one of these journeys, the catastrophe of his mother's death occurred in Paris.
Back in Salzburg, Mozart reluctantly took up the position of court organist and wrote his KV 317 for the Easter Mass, which later gained fame under the name "Coronation Mass". After the prolonged absence in Mannheim (for the completion and staging of "Idomeneo"), there was a clash with superiors and Wolfgang was dismissed with the famous kick in the butt by the archbishop's chief kitchen master Karl Joseph Maria Graf Arco. With this bang, Mozart said goodbye to Salzburg forever (except for a few visits) and left his birthplace for Vienna.
Destination Dome
Mozart's parents were married in this church and Wolfgang Amadeus was baptized on January 28, 1756. The bronze baptismal font is still from that time.
Mozart later worked as a court organist and composed various works such as church sonatas and masses for this house, including his Coronation Mass (which received the nickname only in 1792 at the coronation of Francis II).
The first parts of the cathedral were built in the eighth century and for many hundreds of years the cathedral has had a unique organ landscape, in total there are five organs in the church and can produce an incomparable musical experience. Mozart mostly played on the court organ (Epistle organ) in the southeastern part of the church.
Concerts are held in the church, see the website for the concert schedule:
https://www.salzburger-dom.at/konzerte/
Dome: 
A guided tour is worthwhile and is offered in e,i, g.
---
Destination – Mozart's birthhouse
One of the most popular destinations for Mozart lovers is his birthplace situated on Getreidegasse. There he saw the light of day and composed his first pieces. Not far away you can also visit the residence of later years at the Makartplatz.
https://mozarteum.at/museums/mozarts-geburtshaus/#info
The facade of the birthplace:
---
Destination Residence (Mozart house)
The residence was Mozart's second home. It was away from the city center and provided enough space for the growing family, and Leopold was even able to offer board and lodging to students. In addition, there were music rooms where the Mozarts gave concerts. The first performance of "Il re pastore" by the 19-year-old Wolfgang took place here.
Das Gebäude wurde im zweiten Weltkrieg zerstört und später originalgetreu wiederaufgebaut. Hier hat das Mozarteum ein Museum eingerichtet, welches die Jugend Mozarts und der Familienmitgliedern beleuchtet.
The residence in the past and today:
Look into the museum:
https://mozarteum.at/museums/mozart-wohnhaus/#info
---
Destination Zauberflötenhäuschen (little magic flute house)
Mozart is said to have composed parts of The Magic Flute in this neat little crunchy house. It is located in the Bastion Garden, which is only accessible from the concert halls.
Zauberflötenhäuschen:
---
Destination Mozart-Monument
There has been a Mozart monument in Salzburg since 1835. It was unveiled in the presence of Mozart's two sons, Karl Thomas and Franz Xaver. Constanze was able to watch the creation of the monument from the window of her retirement apartment, but died shortly before the unveiling. The monument shows Mozart with one foot on a rock, which is supposed to document his attachment to his homeland. On each side of the pedestal there is a symbol of Mozart's work for church, concert, chamber music and opera.
Mozart monument:
---
Destination confectionery Fürst, the original Mozartkugel
Did Mozart actually eat Mozartkugeln (Mozart ball)?
Thanks to the lively correspondence of the Mozart family, we know some of Mozart's favourite dishes. These included Krautfleckerln (pasta with white cabbage), liver dumplings with sauerkraut, and poultry. Mozart loved good food. So, he lets Don Giovanni eat a pheasant as a hangman's meal. Mozart tells us in his opera his wine recommendation for this dish: It must be the Italian Marzimio. Don Giovanni calls out to his servant Leporello as he approaches the pheasant: «Versa il vino! Eccelente marzimio!» (Pour the wine! Excellent Marzimio!)
Let us come back to our initial question: Did Mozart actually eat Mozartkugeln?
We know that he enjoyed a hot chocolate for breakfast. The Mozartkugel was invented 150 years after Mozart's death. It was 1905 when a confectioner named Paul Fürst created this masterwork. It consists of a core of marzipan and pistachios, coated in dark chocolate and nougat. Unfortunately, he forgot to patent the invention of these delicious balls, so that there were always disputes with imitators about the name rights. After all, over 100 million Mozartkugeln are produced annually. In the seventies the legal disputes were even discussed in the German Bundestag. The real Mozartkugel is still produced by the Salzburg confectionery Fürst and it is the only product which is allowed to call itself the «Original» Mozartkugel.
https://www.fuerst.cc/de/original-salzburger-mozartkugeln/
---
https://opera-inside.com/wp-content/uploads/2021/03/Salzburg-Wolfgang-Amadeus-Mozart-Biografie-Biography-Life-Leben-Places-Orte-Music-Musik-Travel-Guide-Reisen-Reisefuhrer-e.jpg
617
1427
Operadmin
https://opera-inside.com/wp-content/uploads/2021/08/opera-inside-wp.png
Operadmin
2021-03-01 22:31:01
2021-05-02 13:51:50
Travel tips for opera lovers - Salzburg and Wolfgang Amadeus Mozart